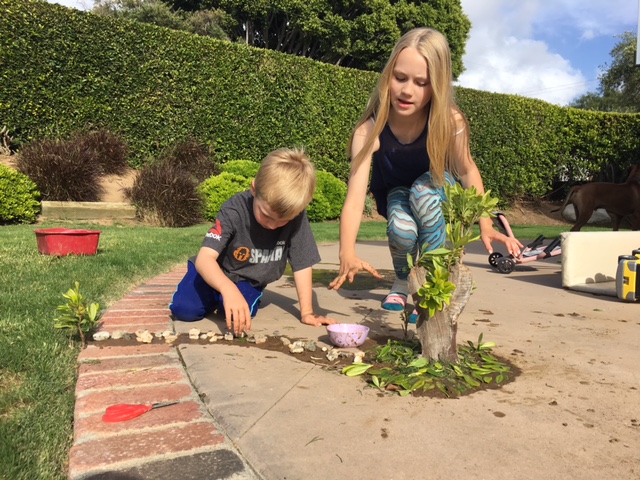 Happy Summer!!
I love summer!
Of course, the weather is warm and the days are long, but can I tell you…I love summer because of the free time.
During the school year, adult-directed activities dictate our kids' agendas. We teach, supervise, correct and redirect, organize and schedule. We take care of them, feed the crew, make sure everyone gets out the door on time, drive to extra-curricular activities, and make sure homework gets done. We do all of this the best we can, and of course, it never seems to be enough.
Summer, on the other hand, is a time to sit back, to look at the big picture and to reevaluate what's truly important. How do we help our kids discover their authentic selves and develop into the people they are meant to be?
Well, believe it or not, it usually involves adults doing LESS!!!! Yep, less!
Summer is a time for us to let our kids take charge. There are fewer pressing items, and our lengthy "to do" lists can and should take a back seat.
Though a simple concept, this is FAR FROM EASY!
Let's see how to do this!
1. Clear the schedule.
Do your best to minimize adult-directed activities.…let the kids lead.
With less on the schedule, there is more time for your children to dive deep into free time play. Yes, they may get bored at first. They might need some help to offer suggestions, but try not to jump in right away. However, if provided time, space, a variety of locations (try outside), and a few materials (mostly loose parts), they will jump into their free play faster with practice.
When they get to choose the activity, they listen to themselves more, they work with others with more synchrony and invest themselves in the process of playing and learning. The ebb and flow of high energy and calm just happen because there are no rules, no adults saying "stay in your seat" or "it's time to go play basketball," which is often counter to their flow. Kids get to know themselves better, even if they don't realize it at first. And, don't worry if they just wander "aimlessly" or sit. This quiet time is essential. Only when we turn down the volume of the outside world can we tune into our inner worlds.
Of course, there are camps, but try to have those camps be ones your kids WANT to attend. Have them be camps where the directors understand the need for free time. We start our summer every year with two weeks of "Beach Camp," which is three hours of supervised beach time. No agenda, no pressure to go surf, swim, run, walk, or build a sand castle. Each child gets to choose what they want to do. The counselors merely ask, "Are you having fun?" They help when asked, but otherwise, let the kids do their thing.
And, to help clear the schedule, I honestly don't worry about the summer academic slide, mostly because we incorporate "academic" learning into our days. More on that later.
2. Observe, participate and revisit.
Telling stories is the best!
Whether you are engaged directly with your children or sitting on the sidelines, be present and notice how they are playing, who they are playing with, what they gravitate towards and what they avoid. What you observe on a daily basis will help prompt discussions later in the evening, perhaps at the family table. Dive deep in your conversations and relive the fun of the day.
Revisiting the day with specific questions and back-and-forth discussions helps you and your children digest all over again not only what happened, but also the FEELINGS and EMOTIONS that went along with it. Asking questions like, "How did you do to improve your handstand?" and "What did it feel like to be upside down for three seconds?!?!" gets them remembering and analyzing. Not only can you (and they) have fun all over again, but you tap into the thinking AND feeling parts of the brain to revisit the problems that were solved!
My youngest is a goofy storyteller, so we all have fun asking him questions about the day. It also challenges my girls to ask precise questions to get to the bottom. We usually end up hysterically laughing, as the stories get longer and taller. Each one of us gets questioned, and I get some great insight into the heart and soul of my family.
3. Say, "YES!"
Let's make summer the season of "YES!"
When you take a deep breath and drop your agenda, give space and time to yourself and your kids, you have a chance to glimpse what your family likes to do, both independently and together. When I ask, point blank, what my kids love to do, I get a lot of "umm"s and a few vague answers. BUT, if I let them SHOW me what they like, oh boy, do we have fun! At the same time, when they ask me to join, I make a commitment to them to say YES! I can't always (there still are other responsibilities), but most of the time if I think about it, YES is the only answer…other things can wait.
My oldest started her first business, selling slime. Of course, I enthusiastically encouraged her! I let her start at her own pace, going through three cycles of buying supplies, making the slime and selling it.
It was when she was on a roll that I asked her how much money she was making. She didn't know the answer; she only knew that she could cover her expenses…but barely. I then asked, "Do you want to know?" With a resounding, YES, she invited me to help teach and guide. We covered gross, net, cost of goods. I introduced a receipt book, a ledger, an "all about money" book for kids (given by her aunt for her birthday). We had fun. She followed up with, can you help me build a website? "YES!" (By the way, THIS is better than ANY academic or tutoring camp I could have ever found.)
Saying "yes" to our kids is powerful. Think of how often they hear the word "no." And, though there is a possible "yes" at the end of every inquiry, sometimes it's hard to find. So, let's make summer the season of "YES!"
4. Read…A LOT!
Reading feeds our heart and soul. And, it works our brain, too!
There are many places and ways to incorporate reading into the day. And, reading is THE way to keep those brains working on the academic skills that often slide during the summer. Here are some of my favorites:
– Read aloud to your children in the morning! We often think of reading as a bedtime routine, and though that is also a very good time to read, it's not the ONLY time. We like to start the day reading as well. We have a family read-aloud book as well as read-aloud books for my two youngers. My oldest likes to read to herself and does it OFTEN, so I don't make her join us…that defeats the purpose of making it FUN!
– Choose books that have movies made. I often do this to introduce different genres of books, since the movie is always a great motivator to try something new.
-Silent, sustained reading time for the WHOLE family. Sit on the couch, or better yet, take a blanket outside and read outside as a family. The #1 way to help kids love something is for you to SHOW them that you love it too, and then participate WITH them. Think of reading as a "do as I do" activity.
-Cook! We made my daughter's birthday, cast-iron cookie pie last night. Planning, reading the recipe, preparing the tools and ingredients, following a sequence, re-reading the recipe, measuring, stirring, reading the stove, reading the controls on the mixer. All of this is reading for function, reading for fun.
– Take a trip to the library. Even if they don't find a book to take home, they have browsed and read LOTS of titles, first pages and made decisions about what interests them. It's also an incredible place where you are not distracted by the daily grind.
– Listen to audio books and read along or just listen. The flow of reading is VERY different than regular speech, and the voices that good narrators bring can truly bring the book to life.
-Read under covers at night with a flashlight. So fun!
Thank goodness for summer. Take it as an opportunity for YOU to do LESS and for your KIDS to lead MORE. Observe them and learn. Say yes. Dig deep. Play a lot and HAVE FUN!
And, finally, leave comments to let me know your kids' favorite activities, what is still challenging for you and what you want MORE of from me!
Have an amazing week! Happy July! Happy Summer!!