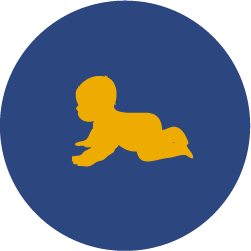 Babies
Our babies capture our hearts and every movement is a window into their growing mind. Join me as you begin your journey to get to know, understand and nurture your baby's development.
Our babies are built out of our hopes and dreams. They truly inspire us to be our best selves. They show how big a heart can be and challenge us daily with our level of confidence. We love so deeply and also second guess ourselves constantly. Now is the best time to start turning to others, experts and friends, for support, for community, for connection, and for understanding.
Join me to journey this year together with love and support as you begin to understand your baby better. Enjoy happy tummy and floor time play with your baby, nurture baby's ability to roll, crawl and walk, and discover how a freely moving baby builds the brain for optimal learning capacity. Through movement and play, your baby reveals all they love and want and need because a baby who moves well can learn about self and the world better. Let's take this journey together. Through mommy and me classes, playgroups, private coaching and consultations, and, if necessary, therapy you will have the tools and the support you need to be the best you can for your baby.