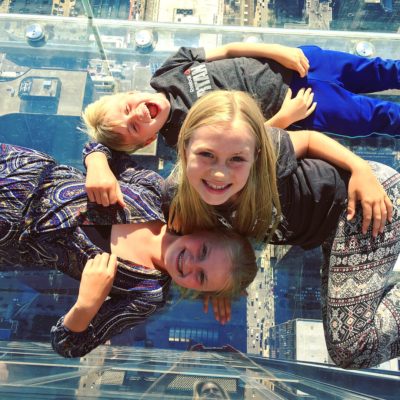 Why do we sit on the sidelines when we are perfectly capable of joining the game?
We are on our family vacation in Chicago, visiting our pre-family stomping grounds for the first time since our three crazies were born. What an amazing city, and yes, the average age of people walking around seems to be the late twenties, exactly when we lived here.
We walked Magnificent Mile, took the red line to the south end of Lincoln Park and meandered through the zoo (yes, it's still free admission to ALL!), dragged the tired and hungry crew to eat at Toast, then red-lined it back to the  Shedd Aquarium. Sharing "our urban-hood" has been exhilarating, having never done a city trek before (we are usually out in nature somewhere).
We were mostly on the same page all day. We peaked, we slumped, we got hungry, we were in awe, hot and sweaty, and rejuvenated. It's easy to travel with your partner, but can be challenging with kids. There is often a mismatch in expectations, play choices, food choices, and energy levels. It's amazing when everything is in sync, as it was for us yesterday!
In all that we did, two activities excited the kids more than any other.
BUT, much to my hindsight dismay, these were exactly the times my husband and I chose to sit out, to watch from the sidelines, even to jump on our phones to check email/think about work! GASP! Rather than joining the exhilaration, we disconnected. WHY?!?
Sure, we were tired, but so were they.
Sure, we wanted a break, but why then? Why didn't we choose to break together?
Maybe we don't trust our bodies to crawl in small places and maneuver around play structures. We could get stuck, or hurt. Perhaps, we are already injured!
Maybe because there is a sign that says "Designed for 5 to 12-year-olds"!
Since when is there an age limit on play?
Actually, since always! Why do you think it's called "child's play?"
But, the question remains, why did I choose to disconnect from my kids, my family precisely when they were most alive? 
I had an inner dialogue about getting up and playing with them, but I hesitated. I will get hot, sweaty, hurt, and wet (a spitting fountain was involved). That won't be comfortable. Won't be comfortable?!?!? Really?!?! I went there, and I didn't realize it until well after the opportunity was over.
Since when is play comfortable?
Play is the opposite. Yes, it's FUN, but it's also a time we push our boundaries and get OUT of our comfort zone. We push the limits in play. We overcome fears, we challenge our assumptions, and we grow. It's not just kids who need to play. We need to play. Dare I say we may need MORE?!?
We usually sit on the sidelines and let the kids play because it's a time when they don't need us. They're good. They probably don't require you at that moment, but what if you are missing out on the best opportunity of the day to connect? 
What if you joined them instead? What if you overcame that initial hesitation and jumped at the chance to play?
What would their faces reflect when you show your, "I'm all IN!" facial expression and body language?
What kind of emotions would come up for you if you just let go and followed their lead?
And, how would the rest of your day look if you dedicated 15 minutes of fully immersed play with your littles precisely when they have the MOST FUN!?!
You better believe I made that commitment for the rest of our time here…no more sidelines. I'm IN! 
And, I have a promise to keep to get SOAKED in the "spitting fountain" before we go! I'm a little nervous about it, but I think it's more about the anticipation of the fun it will be! Just letting go of the idea of "child's play" lets me participate in play and life more fully!
I'm super excited! Here we go….ALL IN!
What did you play today? Comment below!​
And, HAVE FUN!
Love, Wendi